Nocatee | Walk-Through Wednesdays
Walk-Through Wednesdays... Nocatee's newest way to tour new homes virtually! Held every Wednesday at 2:30PM from the Nocatee Homes Facebook page, a Nocatee Welcome Center Representative tours a designer-decorated model home or inventory home (Quick Move-In) in the Nocatee community. The videos are designed to be enjoyed from the comfort of your own home office or couch, and give you the chance to also hear from the builders themselves. Another benefit of these walk-throughs is the chance to comment with any questions you might have about the home or neighborhood.
If interested in more information on any of the models or homes showcased in the videos, please contact the Nocatee Welcome Center!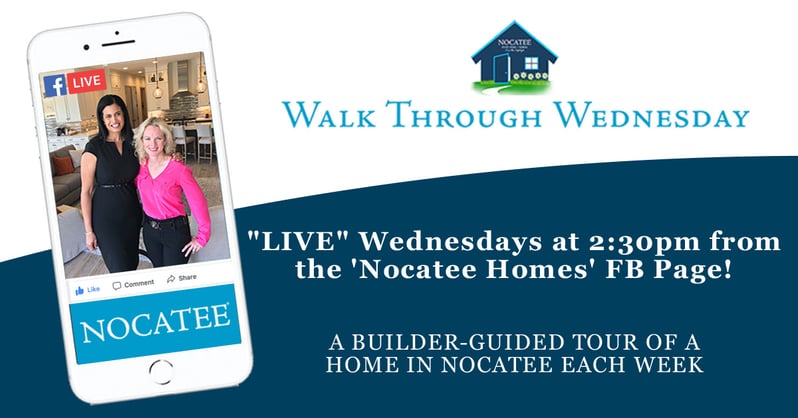 •Settler's Landing at Nocatee - Egret VII Model (Now For Sale) by ICI Homes (9/21/22)
•Settler's Landing at Nocatee - Lafayette Quick Move-In Home by Providence Homes (9/14/22)
•West End at Town Center Townhomes - Bartram Model by ICI Homes (8/31/22)
•Settler's Landing at Nocatee - Sebring Model (Now For Sale) by Riverside Homes (8/24/22)
•West End at Town Center Villas - Cardinal Quick Move-In Home by Toll Brothers (8/17/22)
•West End at Town Center Townhomes - Elkton Model by ICI Homes (8/3/22)
•Franklin Square at Crosswater - Final Townhome Opportunities by Toll Brothers (7/27/22)
•Pioneer Village at Crosswater - Tarpon Quick Move-In Home by Providence Homes (7/20/22)
•Pioneer Village at Crosswater - Manatee Quick Move-In Home by Providence Homes (7/13/22)
•Nocatee Town Center - "the link" at Nocatee July 2022 Business Expo & Family Olympics Update (7/6/22)
•Settler's Landing at Nocatee - Naples Quick Move-In Home by Dostie Homes (6/29/22)
•Pioneer Village at Crosswater - Gilchrist Quick Move-In Home by Providence Homes (6/15/22)
•River Landing at Twenty Mile - River Landing Waterfront Homesite Specialist, Kristan Malin (6/8/22)
•River Landing at Twenty Mile - River Landing Preserve Homesite Specialist, Katrina Watkins (5/25/22)
•Nocatee Community - "Sneak Peek" Settler's Pond at Nocatee (5/18/22)
•The Vista at Twenty Mile - Casa Leon Model by The Pineapple Corporation (5/4/22)
•Nocatee Community - Nocatee Community Park (4/27/22)
•Nocatee Town Center - "the link" at Nocatee (4/6/22)
•Nocatee Welcome Center - River Landing at Twenty Mile Preserve Homesites Update (3/23/22)
•West End at Town Center Villas - Savoy Model by Dostie Homes (3/2/22)
•West End at Town Center Villas - Cardinal Elite Model by Toll Brothers (2/23/22)
•Settler's Landing at Nocatee - Sebring Model by Riverside Homes (2/16/22)
•Del Webb Nocatee - Ellenwood Model by Pulte Homes (2/2/22)
•Settler's Landing at Nocatee - Sawyer Model by Riverside Homes (1/26/22)
•West End at Town Center - Mainstay Quick Move-In by David Weekley Homes (1/19/22)
•West End at Town Center - Valor Quick Move-In by David Weekley Homes (1/12/22)
•Settler's Landing at Nocatee - Haden Model by David Weekley Homes (12/15/21)
•Settler's Landing at Nocatee - Egret VII Model by ICI Homes (12/8/21)
•Del Webb Nocatee - Canopy Club Amenity Center by Pulte Homes (12/1/21)
•Settler's Landing at Nocatee - Ellaville Model by Providence Homes (11/17/21)
•Settler's Landing at Nocatee - Caspian Model by Toll Brothers (11/10/21)
•Settler's Landing at Nocatee - Grand Acadia Model by Dostie Homes (11/3/21)
•Settler's Landing at Nocatee - Keystone Model by David Weekley Homes (10/27/21)
•Settler's Landing at Nocatee - Hernando Model by Providence Homes (10/20/21)
•Settler's Landing at Nocatee - Costa Mesa Model by ICI Homes (10/13/21)
•Nocatee Town Center - Health & Wellness Retail at Nocatee Town Center (9/29/21)
•Pioneer Village at Crosswater - Hamilton Model by Riverside Homes (9/22/21)
•Nocatee Community - Nocatee Splash Waterpark (9/15/21)
•Pioneer Village at Crosswater - Hernando Model by Providence Homes (8/25/21)
•Franklin Square at Crosswater - Tulip Model (Townhome) by Toll Brothers (8/18/21)
•Nocatee Community - Coastal Compass Executive Suites (8/11/21)
•Franklin Square at Crosswater - Lily Model (Townhome) by Toll Brothers (8/4/21)
•Nocatee Town Center - Publix Greenwise Market (7/28/21)
•Nocatee Community - Nocatee Sports Complex (7/21/21)
•Nocatee Town Center - The Link at Nocatee (7/14/21)
•West End at Town Center - Clermont Model by Providence Homes (7/7/21)
•Nocatee Community - Twenty Mile Post (6/30/21)
•Nocatee Community - Nocatee Spray Waterpark (6/23/21)
•Nocatee Community - Twenty Mile Park (6/9/21)
•Del Webb Nocatee - "Dusty Boots" Canopy Club Amenity Center Tour by Pulte Homes (5/19/21)
•Nocatee Community - West End Park (5/12/21)
•West End at Town Center - Noble Model by David Weekley Homes (5/5/21)
•Settler's Landing at Nocatee Preview - Irondale Model by David Weekley Homes (4/21/21)
•Franklin Square at Crosswater (Townhomes) - "Dusty Boots" Tour by Toll Brothers (4/14/21)
•Nocatee Community - Planet Swim at Nocatee (4/7/21)
•West End at Town Center - Jackson Model by Providence Homes (3/31/21)
•Nocatee Community - Crosswater Park (3/24/21)
•West End at Town Center - Liberty Model by David Weekley Homes (3/17/21)
•Nocatee Town Center - Coastal Wine Market & Tasting Room (3/10/21)
•Nocatee Community - The Nocatee Landing (3/3/21)
•Nocatee Town Center - New Nocatee Town Center Retailers (East of Crosswater Parkway) (2/24/21)
•Olea at Nocatee (Luxury Apartments) - Behind-the-Scenes with Olea's Lifestyle Director (2/17/21)
•Nocatee Community - Flagler Health+ Village at Nocatee (2/10/21) *Original Air Date- 12/23/20*
•Del Webb Nocatee - Mystique Grand Model by Pulte Homes (2/3/21)
•The Vista at Twenty Mile - Casa Leon (Plan Three) Model by The Pineapple Corporation (1/27/21) *Original Air Date- 3/21/18*
•Del Webb Nocatee - Canopy Club Amenity Center "Dusty Boots" Tour by Pulte Homes (1/20/21)
•Anthem Ridge at Crosswater - Egret VII Model (NOW-FOR-SALE) by ICI Homes (1/13/21)
•Pioneer Village at Crosswater - Fanning Quick Move-In by Providence Homes (1/6/21) *Original Air Date- 12/6/20*
•Nocatee Community - Flagler Health+ Village at Nocatee (12/23/20)
•Oakwood at Nocatee - Rose Model (Town-home) by Toll Brothers (12/9/20)
•Nocatee Community - YMCA at Baptist HealthPlace at Nocatee (12/2/20)
•The Settlement at Twenty Mile - Aiden Model Home by ICI Homes (11/25/20)
•Nocatee Community - Baptist HealthPlace at Nocatee (11/18/20)
•Del Webb Nocatee - Prosperity Model by Pulte Homes (11/11/20)
•Liberty Cove at Crosswater - Washington Quick Move-In by ICI Homes (11/4/20)
•Nocatee Community - Virtual NocaTour (10/28/20)
•Anthem Ridge at Crosswater - Julington Model by Toll Brothers (10/21/20)
•The Colony at Twenty Mile - Lions Quick Move-In by David Weekley Homes (10/14/20) *Original Air Date- 8/19/20*
•Anthem Ridge at Crosswater - Egret VII Model by ICI Homes (10/7/20)
•Pioneer Village at Crosswater - Tarpon Quick Move-In by Providence Homes (9/30/20)
•Pioneer Village at Crosswater - Haden Quick Move-In by David Weekley Homes (9/16/20)
•Pioneer Village at Crosswater - Ginnie Quick Move-In by Providence Homes (9/9/20)
•Nocatee Community - Nocatee Spray Waterpark (9/2/20)
•The Colony at Twenty Mile - Lions Quick Move-In by David Weekley Homes (8/19/20)
•Del Webb Nocatee - Renown Quick Move-In by Pulte Homes (8/12/20)
•Timberland Ridge at Nocatee - Costa Mesa Quick Move-In by ICI Homes (8/5/20)
•Freedom Landing at Crosswater - Alexander Quick Move-In by Providence Homes (7/22/20)
•Timberland Ridge at Nocatee - La Mirada Quick Move-In by ICI Homes (7/15/20)
•The Settlement at Twenty Mile - Aiden Model (Now-for-Sale) by ICI Homes (7/8/20) *Original Air Date- 12/11/19*
•Pioneer Village at Crosswater - Jackson Quick Move-In by Providence Homes (6/17/20)
•Del Webb Nocatee - Del Webb Nocatee Lifestyle House (First Look) (6/10/20)
•Heritage Trace at Crosswater - Arden Quick Move-In by ICI Homes (6/3/20)
•Oakwood at Nocatee - Lily Model (Town-home) by Toll Brothers (5/13/20)
•Nocatee Community - Crosswater Park (First Look) (5/6/20)
•Nocatee Community - The Nocatee Landing (4/29/20)
•The Ranch at Twenty Mile - Wilshire Model by Dostie Homes (4/15/20) *Original Air Date- 8/14/19*
•Nocatee Community - Virtual NocaTour (4/8/20)
•Pioneer Village at Crosswater - NEW Hamilton Model by Riverside Homes (3/18/20) *Pre-Recorded*
•Heritage Trace at Crosswater - NEW Acadia Model by Dostie Homes (3/11/20)
•Pioneer Village at Crosswater - NEW Gilchrist Model by Providence Homes (3/4/20)
•Pioneer Village at Crosswater - NEW Irondale Model by David Weekley Homes (2/12/20)
•Del Webb Nocatee - Ellenwood Model (Villa Series) by Pulte Homes (2/5/20)
•The Colony at Twenty Mile - Avondale Model (Now-for-Sale) by David Weekley Homes (1/15/20)
•The Settlement at Twenty Mile - Aiden Model (Now-for-Sale) by ICI Homes (12/11/19)
•Del Webb Ponte Vedra - NEW Spoonbill Model (Condo) by Pulte Homes (12/4/19)
•Del Webb Nocatee - NEW Palmary Model by Pulte Homes (11/6/19)
•The Colony at Twenty Mile - Egret VII Quick Move-In by ICI Homes (9/25/19)
•Del Webb Nocatee - NEW Stardom Model by Pulte Homes (8/28/19)
•The Settlement at Twenty Mile - Palisade Quick Move-In by ICI Homes (7/31/19)
•Starling at Nocatee (Independent Living) - Behind-the-Scenes First Look (7/10/19)
•Coastal Oaks at Nocatee - Terrano Model by Toll Brothers (6/26/19)
•Freedom Landing at Crosswater - Edison Quick Move-In by Riverside Homes (6/5/19)
•The Settlement at Twenty Mile- Serena w/ Bonus Quick Move-In by ICI Homes (5/29/19)
•Timberland Ridge at Nocatee- Palisade Quick Move-In by ICI Homes (5/8/19)
•Freedom Landing at Crosswater- Walton Quick Move-In by Riverside Homes (5/1/19)
•The Colony at Twenty Mile- San Vincente Model by David Weekley Homes (4/24/19)
•The Colony at Twenty Mile- Magnolia Model by Providence Homes (4/10/19)
•The Settlement at Twenty Mile- Aiden Quick Move-In by ICI Homes (3/27/19)
•The Colony at Twenty Mile - Zespedes Model by David Weekley Homes (3/6/19)
•The Colony at Twenty Mile - Egret VII Model by ICI Homes (2/27/19)
•The Colony at Twenty Mile - Franklin Model by Providence Homes (2/6/19)
•Heritage Trace at Crosswater - Talbot Quick Move-In by Dostie Homes (1/30/19)
•The Colony at Twenty Mile - Arden Model by ICI Homes (1/23/19)
•The Colony at Twenty Mile - Design-It-Yourself Avondale Model by David Weekley Homes (1/16/19)
•Heritage Trace at Crosswater - Anastasia Model by Dostie Homes (1/9/19)
•The Settlement at Twenty Mile - Rowen Model by Toll Brothers (12/19/18)