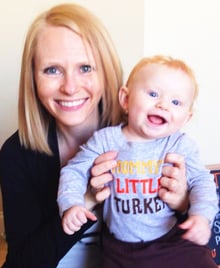 Raychel is happy to work and now live in the Nocatee community. As a single working mother of a pre-school age child, she deeply appreciates the convenience of a very short commute, as well as the proximity to her child's day care.
"I like Nocatee's tight-knit community feel, it removes us from the tiring "hustle and bustle" of the Beaches (less than 15 minutes away from Town Center). Nocatee is a vibrant community full of other young families and another reason I love Nocatee. It's a desirable place to call home – I'm excited for the area's continued growth."
Raychel knew that The Palms Townhomes was the perfect neighborhood for her and Slater.
She enjoys townhome living here, and cites the yard maintenance as a true time saver that leaves her with more time to enjoy Nocatee's first-class amenities.
"The perfect day at Nocatee would consist of a day spent at Splash Water Park and then a cookout with friendly neighbors at home."