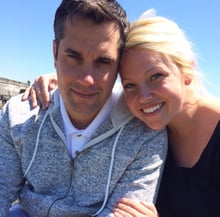 Carlye and Kevin knew they wanted to build their family home in a community that fit their urban living desires. They found that and more at Nocatee.
"I am a Ponte Vedra native and have been hearing about Nocatee for years now. After my husband and I moved back from Chicago we knew we wanted to live in the best possible place to raise kids.We also knew we wanted to be in St. Johns County and purchase new construction. After our first trip of touring model homes around Nocatee, we stopped looking because we knew we had found our dream community."
Carlye and Kevin knew that Siena at Town Center was the perfect neighborhood for them.
"Kevin is from Chicago and a city man. He is used to living in close proximity to all the activity. Siena is the perfect location to experience the urban lifestyle since we can walk to Town Center and the central amenities like Splash Water Park and Greenway Trails. I knew Siena was also the community for us because I loved the look and the uniqueness of the gorgeous Mediterranean style homes and the esteemed reputation of ICI Homes. ICI's spacious floor plans were perfect for our family."